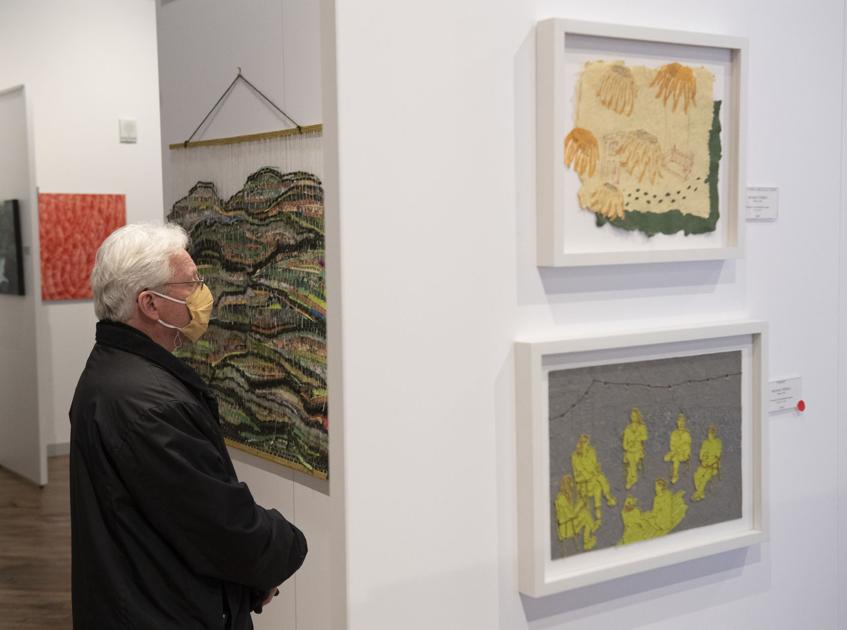 Emerging Artist Uses Sewing Machine Bike to Create Intricate Pieces | 72 hours
[ad_1]
For Nevada Tribble, art has always been about a sense of community. But that idea has grown even more intense over the past year as the pandemic has caused her to return to her hometown and take a new look at where she grew up.
The 23-year-old from Elkins, West Virginia, Tribble graduated from Shepherd University last spring and returned home when states across the country closed due to COVID-19.
This experience of suddenly pivoting to a new environment prompted the creation of new pieces and the first major exhibition for the young artist, who just opened in downtown Frederick at DISTRICT Arts.
Her exhibit, titled "Around the Block," features scenes and images from her neighborhood such as houses, trees, road signs, and small gatherings of neighbors.
The artwork is made on paper that Tribble creates itself. She "draws" the scenes on paper with thread using a sewing bike that she built herself.
The bike is stationary with an old sewing machine plugged into it. The bicycle pedals are used to power the machine and it can be used both indoors and outdoors. When using it outdoors, Tribble said it allows her to get out into the fresh air, connect directly with her city, and absorb her surroundings directly into her artwork.
"Part of what I love is that I can share the process of creating my work with all of my neighbors who pass by on the streets," she said. "I end up having a lot of fun conversations with people about what I'm doing … and since art is about my community, it's really cool to be able to share the process that way as well."
Tribble's pieces made their way to DISTRICT Arts after gallery owner Bill McLauchlan reviewed her work while she was a student at Shepherd University.
McLauchlan said he was impressed with Tribble and his abilities at such a young age. She is one of the youngest artists to ever show at the downtown gallery and a few of her pieces have already been purchased after only a week of exhibition.
Staci McLauchlan, co-owner and founder of the gallery, said that as a textile artist herself, she was really impressed with what Tribble is doing.
"I'm fundamentally in awe of that… what she does with this hand-threaded threading is really, really hard, I mean I can't do it and I've been sewing for years," she said.
Being back in her hometown last year was the inspiration for Tribble's pieces, as it led her to re-analyze what community means during such a strange time.
"A lot of the art in this exhibit is sort of about this experience, both coming back to my hometown… but also during such a strange time for the community and just observing how it all makes sense. the community and the neighborhood has grown. has remained really resilient through it, "she said.
The exhibit at DISTRICT Arts features a variety of Tribble's wire designs and sculptures – and each item showcases their handmade paper in one way or another.
Part of the exhibit features paper molds for tableware and kitchenware. Tribble said she had asked various members of her neighborhood to give her a dish or kitchen item that meant a lot to them, along with a souvenir of that item.
She then made paper molds of each piece and wrote the story, memory, or in some cases a recipe, right on the mold.
One of the largest objects in the exhibition is a woven piece that shows interwoven messages of hope.
Tribble said she created it at a time when she found it hard to hope.
"Writing down hopes and thinking about positive things around me kind of helped me get out of it and see the positive side of things," she said.
Tribble hopes their pieces will inspire others to reflect on their own communities and how the idea of ​​living together has evolved over the past year.
"I like the idea that people can watch [my art] and identify the different aspects of the community that they see and reflect on how the community plays a role in their life, "she said. "I feel like it's kind of a starting point for the thinking process, looking for that oneness with people, especially finding new ways to do it now as we arrive, hopefully, towards the end of the pandemic, finding ways to reconnect with all the people around us. "
She also hopes her artwork will send a message about the importance of community and how it can be a support system during difficult times.
"That feeling of community is a lot of where I get hope with all the crazy things going on in the world right now, it's where I see the forces of good manifesting in the way whose people connect to each other like this local, informal level, "she said.
"Around the Block" will be on view at DISTRICT Arts through March 28, and all pieces are available for purchase with a portion of the proceeds going to Tribble and the gallery.
Follow Katryna Perera on Twitter: @katrynajill
Follow Katryna Perera on Twitter: @katrynajill
[ad_2]