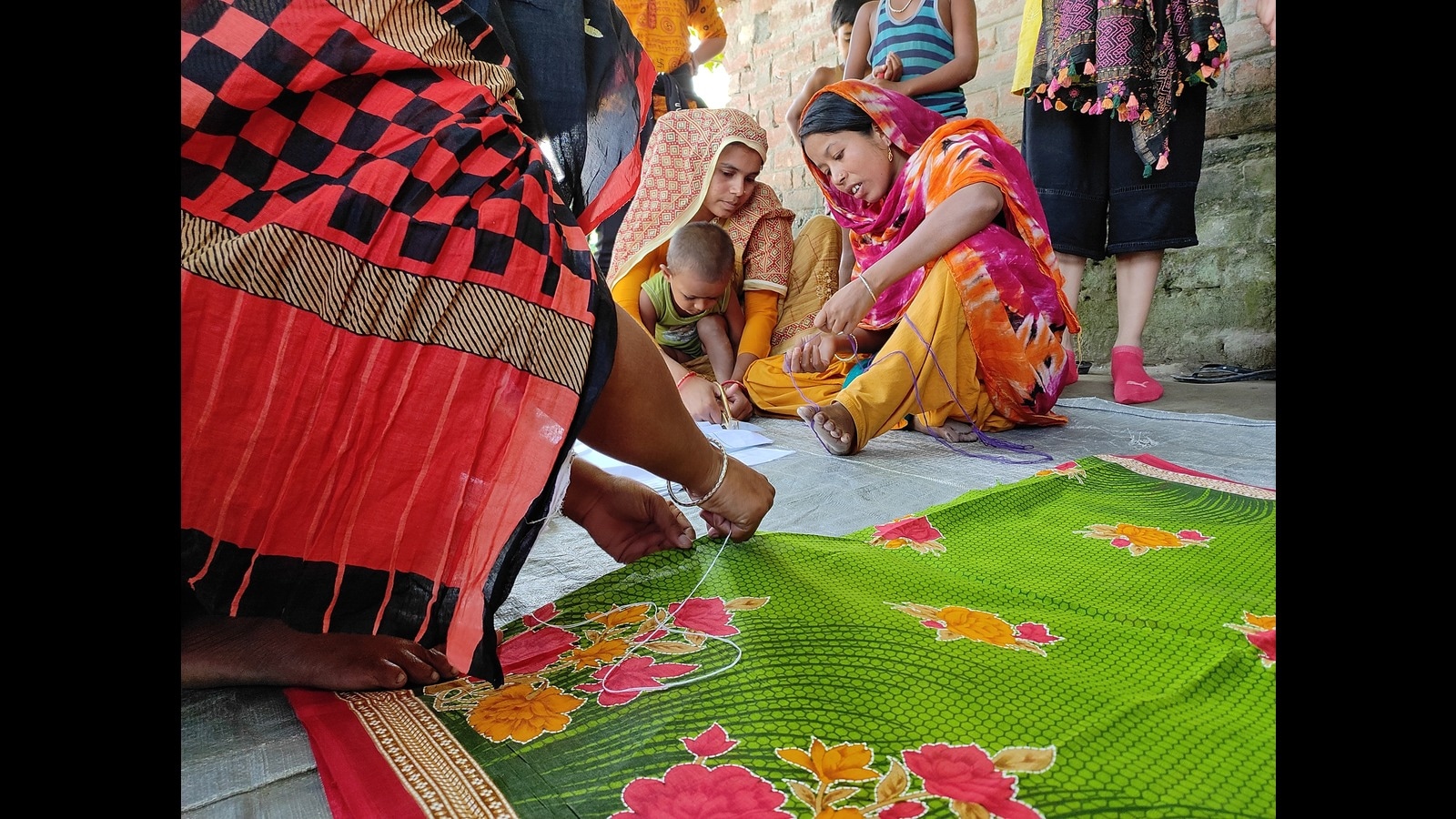 Sewing Stories of Bihar's Lesser Known Kheta Embroidery
The ripples of the river, the movement of earthworms and the textures of the pan patta (betel leaf) – these are the motifs that find their way into Kheta embroidery unique to the Shershabadi community of Bihar. What sets it apart are the vibrant patterns, which leave the viewer in awe. And showcasing around 60 samples of this lesser-known embroidery, a permanent exhibition of handcrafted textiles in the capital.
Done using needles and thread, Kheta is a daytime ritual for rural women. And their embroidered products will now be on display at this fair, which also includes a live display of handicrafts by three Shershabadi women, workshops for educational institutions to learn the handicrafts, expert lectures and audio-visual sessions. on the Shershabadis. "I must have been 10 years old when I learned this trade from my mother", explains Shareefa Khatoon, one of the three artisans who present their work live at the fair, and adds: "Aaj mein 40 saal se upar ki hu. Hum apne spare time mein karte hain ye kadhai, din ke kaam ke beech mein. Aur bachhpan se karte aa rahe hain. By Dilli pehli baar aana hua hai.
Based on four years of research, the exhibition attempts to highlight the subtleties of this embroidery. "Despite having embroidered quilts such as Kantha from Bengal and Sujani from Bihar, the Khetas remained undocumented," shares textile expert and researcher Saumya Pande, who documented these quilts being embroidered in Kishanganj from Bihar. She explains: "These are reversible duvets, made by Shershabadi women from Kishanganj district in Bihar. Kheta embroidery is a kind of quilting, the art of stitching together layers of fabric. Only a certain community, called the Shershabadi, practice this kind of geometric embroidery, which almost resembles weaving. I had cases where I showed it to textile experts and after half an hour (of discussions), they understood that it was an embroidery!
Going back and forth to document the sights and sounds of this work, Pande observed that the luminosity of the Kheta transforms Shershabadi houses which are made of mud structures, with its color. "The color in the lives of artisans comes alive in their embroidery," says Pande, adding, "What happens in most quilting techniques in India is that one quilt is worked by many people. But Kheta is made by one person, like a signature quilt. In the exhibition, visitors can find the same concept made by different women, and each has their signature style. Pande believes that what makes Kheta unique , these are his influences, and adds: "Most of the other embroideries in India show the influence of life in the desert, as in all of Gujarat and Rajasthan. Very few embroideries have influences that come from the river. When we began to document, we found that all patterns relate to the bodies of water and the land found there.The Shershabadis migrated from the Delta region of Bangladesh westward into India, along of the river. For example, c ome patterns show the ripples of the river or the movement of the earthworm or the paan patta (betel leaf). It is an interaction of natural elements with people.
Shareefa's sister-in-law, Tajgera Khatoon, adds that she has many hopes for the exhibition: "Is show ke baad humare kaam ko aur naam milega. Our work will then be exposed to a greater level, and more people will understand what it is and buy it too. Zyada connection ko iske bare mein jaan na chahiye at national level by pehchan milni chahiye ise. Yehi humari umeed hai.
Catch it live
What: Kheta: An exhibition of embroidery
Or: National Handicraft Museum and Hastkala Academy, Bhairon Marg, Pragati Maidan
On till: April 3
Hourly: 10 a.m. to 5 p.m.
Nearest metro station: Supreme Court on the Blue Line
Author tweets @siddhijainn
Follow more stories on Facebook and Twitter